Quilts
My Quilts
I don't make a lot of quilts anymore. It takes a lot of time and I don't have as much as I used to. I thought I would share the ones I have made.
I tend to stick to chains, Double and Triple Irish Chains are my favorites. I like scrappy quilts, but it's been a long time since I made one. Here are a couple of my latest quilts.
Ian's Quilt
Ian's quilt took me about a year and a half to finish. Ian is my 14 year old son. He wanted one so badly, I had to make it for him. :) I had a friend quilt it for me. She has a long-arm quilting machine and did a simple meander over the top.
The top is made of batiks and a Fossil Fern by Benartex. The back is made of Minkee. Minkee is a wonderful, soft fleece-type fabric and makes a warm quilt. Ian won't be cold this winter! The batting is Hobbs 80/20, which gives it a bit of loft. I used to use only Warm & Natural, but I was looking for something warmer with some loft.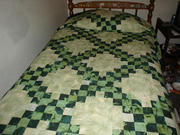 Sarah's Quilt
Sarah is my niece. She got married on Sept 3, 2005. I made her this quilt which is, of course, another chain. The flower fabric is Lakehouse. I love Lakehouse fabrics! The back is cotton. I quilted this myself on my Bernina.