Reikidolls
Dolls and Patterns by Reikidolls


I am a doll artist living in the Pacific Northwest. I've been making cloth dolls for over 10 years and have slowly moved towards designing my own dolls. I love pugs, so pug dolls come easily to me. I also love vintage-looking dolls.
Update February 2008: 2007 was a tough year. I attended college online, studying for a MBA in Management. I drove up to Canada almost every weekend to see Donn, my boyfriend. I changed jobs. I was diagnosed with Fibromyalgia. So my creativity was was really low. This year I am walking more, have an almost stress-free job, and starting to feel creative again. I want to make an Elizabeth I doll and a Hatshesput doll, but I am still working on that MBA. Plus, I'm going to be a Grandma!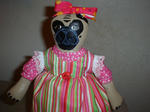 What's New in the World of Reikidolls?